Copic® Markers
Copic® markers are valuable tools in any craft room, especially for card makers and paper crafters. All Copic markers use alcohol-based ink, just like professionals use. Each Copic marker is waterproof and dye based, so you get beautiful colors that you can easily layer and blend. Plus you can use them on a wide variety of surfaces and in a variety of ways.
| | | | | |
| --- | --- | --- | --- | --- |
| | | | | |
| Inking Techniques | | Five Blending Styles | | Colorless Blender Tips and Tricks |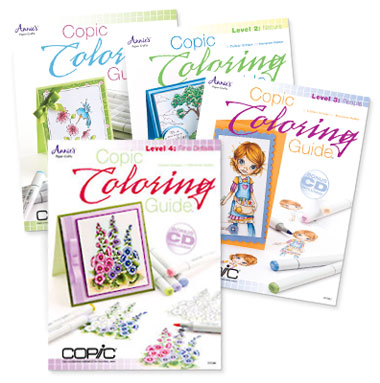 Everyone can use Copic markers, but if you're looking for inspiration or solid how-to techniques so you can make the most of them -- you're at the right place! Because sometimes even the most serious card makers can get stuck in a rut. That's where the Copic Coloring Guides comes in! Written by two well-known experts, Colleen Schaan and Marianne Walker, the Copic Coloring Guide book series walks card makers through basic coloring techniques, provides helpful information on color groups, and information on how to master coloring specific elements like nature and people. Each book gives you great card designs featuring the coloring techniques you'll learn.